Tim and Bill in 1976

Tim Rogers graduated from Houston Technical College in December of 1975. Immediately following his graduation, he moved to Sinton, Texas, and began to work for Moore's Pharmacy, managing their jewelry department.

In November of 1976, Tim, along with Bill Moore and Arnold Acuna, opened The Jewelry Store in downtown Sinton.



Tim and Donna's wedding.

In 1978, Tim and Donna (Dyer) were united in marriage. Tim and Donna have devoted themselves to public service and helping in the community in any way that they are able. Having served in such organizations as the P.T.A., Cub Scouts, Girl Scouts, Chamber of Commerce, Economic Development Corp., and San Patricio County Appraisal Review Board, Tim and Donna Rogers understand the value of contributing to local organizations and giving back to the community.


In 1986 The Jewelry Store moved to its present location, at 103 W. Sinton St. February 1990 marked a new beginning for The Jewelry Store. At that time, Tim bought the share of the business owned by Bill Moore and Arnold Acuna. To reflect the personal ownership and the Rogers family involvement in the business, the firm began to do business under the name Rogers Fine Jewelers.

For 41 years, Rogers Fine Jewelers has provided a large spectrum of services to the Coastal Bend area of South Texas. Tim Rogers offers area residents a full service jewelry and watch repair shop, with such services as ring sizing, chain repair, stone setting and custom design. Rogers Fine Jewelers is able to offer the widest range of diamond jewelry at the most competitive prices.



L to R: Josh, Amy, Donna, Tim, Julie.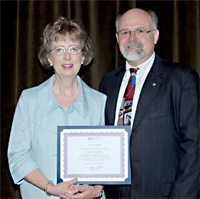 Tim & Donna have been
recognized with numerous awards

Michelle.

Timothy and Michelle.

Their son, Joshua, served our country in the US Air Force, beginning in the fall of 2000. His enlistment took him from Texas to Florida, South Korea, Okinawa and Mountain Home, Idaho. In 2006 he began serving as an instructor at Sheppard AFB, in Wichita Falls, Texas. December 2006 was a time of great celebration for the Rogers family, as Joshua married Amy Christine Hunt, of Middlesboro, KY. Amy, a health & physical education teacher and varsity coach at Bell County High School, had started the volleyball program and led their team to District Champs, before marrying Josh and joining him in Wichita Falls. On March 14, 2008, the Lord blessed Josh and Amy with a son, Timothy Lance. On June 26, 2009, the Lord blessed the Rogers family with a little sister for Timothy, Michelle Renee. After an honorable discharge from the Air Force, in June of 2010, Joshua joined his parents in the family business. Josh and Amy are continuing the family contribution of community service. Josh, as president of the Sinton Chamber of Commerce, is promoting growth and progress in the area of commerce. As a member of the Odem ISD school board, he is promoting growth and progress in the field of education. Amy serves the school district as a Licensed Dyslexia Therapist and an instructor for the Odem ISD GT program.


Josh, Amy, Tim & Michelle

Julie.

Their daughter, Julie, is a 2009 graduate of Coastal Bend College, and a licensed dental hygienist. However, she can often be found working in the shop at Rogers Fine Jewelers, or assisting customers with their jewelry and gift selections.


Rogers Fine Jewelers is indeed a family business, with a knowledgeable and courteous staff that is eager to assist you in your gift, jewelry, and diamond needs.